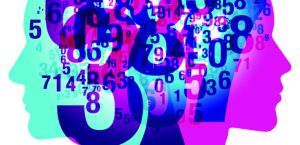 The Next Cohort Starts August 1st!
Are the shadows of financial stress clouding your peace of mind? You've found your sanctuary.
At the Financial Psychology Center's Beyond the Numbers group, we interweave your financial health and emotional wellness. By integrating effective financial management methods and therapeutic psychological techniques, we instill a sense of financial security, confidence, and emotional equilibrium in you.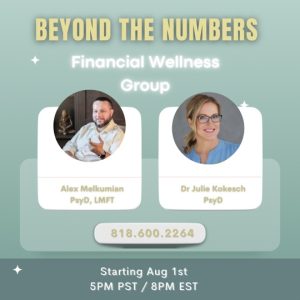 How Your Relationship with Money will Transform
Our groups are carefully designed to offer a range of profound benefits that empower you to master your financial wellness:
• Overcome Financial Anxiety: By addressing the root causes of your financial stress, our counseling service provides the tools to manage these feelings effectively. This empowers you with the freedom to think clearly and act decisively, reducing unnecessary stress and fostering overall mental wellbeing.
• Establish Sound Financial Habits: Our Debt and Spending Management service equips you with practical strategies to manage debt and cultivate disciplined spending habits. This not only helps to build long-term financial security, but also encourages a mindset of fiscal responsibility, easing the path towards achieving your financial goals.
• Empower Yourself with Knowledge: Our Financial Literacy program is the bedrock of financial independence. It offers comprehensive knowledge and essential skills for making informed, effective financial decisions. This nurtures self-assuredness in tackling financial challenges, enabling you to take charge of your monetary destiny.
• Foster Positive Financial Behaviors: Through our Financial Behavior Modification service, we help you replace damaging financial habits with healthy ones. This encourages a positive relationship with money, spurring growth in your financial health, and promoting a sense of accomplishment and peace in your financial journey.
The Benefits of Group Treatment
The Beyond the Numbers group is not just about individual change but also about collective healing.
Group treatment offers a unique platform where individuals can connect, share their experiences, and
learn from each other. The journey to financial wellness becomes less isolating and more empowering
when you realize that you are not alone in your struggles. In this safe, supportive environment, you can
explore new perspectives, gain insights from others' experiences, and develop effective strategies
together. It's a place of understanding, growth, and shared triumphs.
How it works
The efficacy of 'Beyond the Numbers' lies in its structure and operational dynamics. The group is designed to encourage openness, engagement, and collective growth. Here's a brief overview of how our group works:
Zoom Meetings: Once a week for a period of 60 minutes per session. This weekly arrangement allows for consistency and progress while ensuring members have ample time to process and apply what they have learned.
Group Dynamics: Each group consists of a maximum of 10 participants. This small group size allows for everyone's voice to be heard and facilitates deep, meaningful connections.
Structure: Generally, a session begins with a short mindfulness exercise to bring focus and presence to the group. This is followed by a topical discussion led by the financial therapists, which may cover subjects like understanding financial anxiety, debt management, cultivating financial literacy, and behavior modification. This is followed by open discussion allowing participants to share their personal experiences, challenges, and victories. This segment is not only therapeutic but also educational, as members learn from each other's journeys.
Duration: The program runs for 8 weeks. This provides sufficient time to delve into various aspects of financial psychology and enables participants to experience tangible progress in their financial and emotional well-being.
Investment: There is a $55 investment per class. If you would like to pay for all 8 weeks, please contact us for a discount.
The Beyond the Numbers Promise
At Financial Psychology Center, we recognize that your financial situation is as unique as you. That's why
our therapy process is personalized, compassionate, and free from judgment. We don't merely stop at helping you make better financial decisions; we delve deeper into understanding your financial behaviors and emotions. We help you grasp your financial values, attitudes, and habits, and how these shape your overall fiscal health and wellbeing. Our goal is to arm you with the tools and strategies you need to seize control of your financial future.
Embark on Your Journey Today
Take the first step towards achieving financial peace. Reach out to us to schedule a complimentary
consultation and uncover how financial therapy can transform your life. No judgment, no pressure, just
a friendly discussion about your financial future. Let's initiate your journey towards fiscal health and
emotional wellness today. Remember, it's never too late to alter your financial story.
Welcome to Financial Psychology Center's Beyond the Numbers – where fiscal health meets mental
wellness.